Richard Paton, What Makes an Effective Association: Benchmarking For Performance (CSAE, 2015)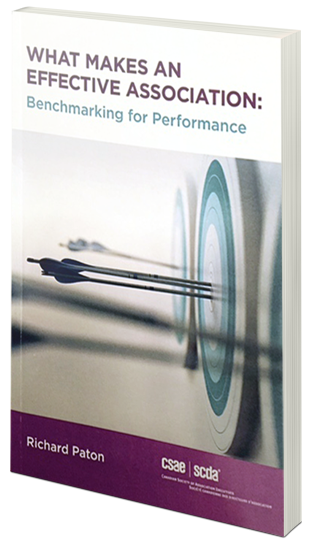 Most associations and non profits find that at some point they need to do an assessment of how effective they are in accomplishing their mandates.
As President & CEO of the Chemistry Industry Association, Richard Paton decided that in order to provide the best possible association for members, it was useful to have a framework for benchmarking the organization for its effectiveness and to be able to rank the association in these key areas. This framework was very useful for discussions with boards and for determining areas for improvement in the association.
This publication provides 9 areas for benchmarking an association or non profit plus an X factor which is the alignment related to all of these areas. The areas covered in the publication are: value proposition; governance; leadership/staff; strategic direction; policy; advocacy; communications; organizational innovation; management systems; X factor-alignment.
The book outlines the requirements for performance in each of these areas as well as common mistakes associations and non profits can make.
RP Consulting offers, as one of its service areas; a benchmarking assessment of an association or non profit together with a report to the President; Chairman or others with recommendations for improved effectiveness.
How to Get this Publication
The book is available directly from the Canadian Society of Association Executives (CSAE)