Richard Paton, The Politics of Management: Thinking Like a Manager (2013)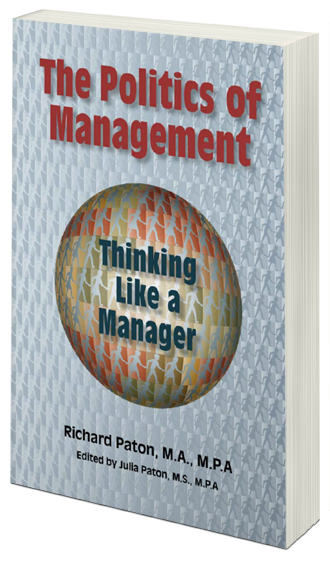 This book is the textbook for the very highly rated Politics of Management course that Richard taught for 27 years at Carleton's Masters of Public Policy and Administration Program. 80% of the students of this course are usually working with the federal government or consulting firms with an average of 5 years experience. At this point in their careers, most students are struggling to understand management and looking for ways to develop themselves for managerial positions.
The primary aim of this book is to help first-time managers or managers early in their careers to learn to think like a manger and develop the strategies, skills and style required to be effective in their organizations.
To assist these young professionals, the book provides key concepts, a framework, cases and strategies that are essential to assessing management situations and developing effective strategies to achieve results in complex organizational environments.
Richard has thirty years experience as a senior executive in the federal government and as President & CEO of the Chemistry Industry Association of Canada. This book integrates his management experience in government, the nonprofit sector and business with his extensive training and research in the management field.
There are two ways to order this book:
There are limited hard copies available directly from the publisher:
Burnstown Publishing House
2205 Calabogie Road
Burnstown, ON K0J 1G0
Telephone: (613) 432-0379