Richard Paton, Leading Business Associations: Making Successful Transitions (2014)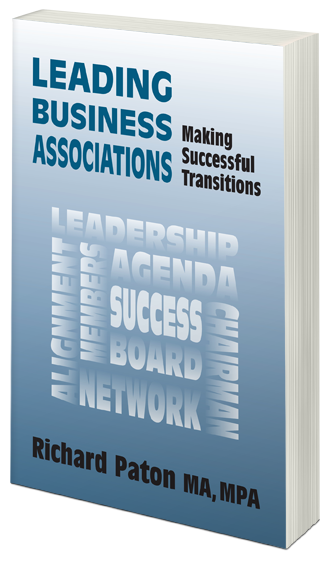 "This book is a must read for anyone who has ambitions of being a senior executive of a business association." (Dr. Susan Phillips, Supervisor, Philanthropy and Non Profit Leadership Programs, School of Public Policy and Administration, Carleton University).
"Richard Paton's career success is reflected in this book about association leadership" from taking the help to assessing the situation, developing a strategy and managing effectively. This is not an academic treaties-it is the result of years of experience from a proven professional." (Michael Bourque, President, Railway Association of Canada).
This book illustrates how to make a successful transition as president of a business association or non profit and how to manage successfully over the long term.
The book is based on Richard Paton's 19 years experience as President of the Chemistry Industry Association of Canada and interviews with 26 Presidents covering 206 years of experience as Presidents.
The book provides insights into the key steps and requirements for the transition process and how to develop and implement an agenda. Richard also illustrates the common pitfalls that can undermine the career of a President, or what he calls "death moves."
The book will help current Presidents to be effective in their jobs and assist in the development of future senior executives in associations and nonprofits.
There are two ways to order this book:
There are limited hard copies available directly from the publisher:
Burnstown Publishing House
2205 Calabogie Road
Burnstown, ON K0J 1G0
Telephone: (613) 432-0379